Is Northern Ireland 'Open' for business? Examining the social and economic impact of sporting events
Reading Time:
7
minutes
This article draws on recent experiences of Government-funded sporting events in Northern Ireland (NI), highlighting a number of those events, in particular their economic and social benefits. Such past events have helped to develop NI's capacity as a host venue, and impact upon NI's future hosting of similar events.
Government funding for sporting events in NI
Sporting events come in varying forms and sizes in NI. Depending on the type of the event, it may be eligible for some form of public funding – either from central, regional or local government. The United Kingdom (UK) 'Mega Events Policy Framework' (2017) stipulates that the largest events held in the UK are to be bid for and co-ordinated at a UK central government level; this would include events such as the London Olympics and the Rugby World Cup. Aside from these, it is the responsibility of the region or the locality to attract and fund such non-mega events. For example, in NI, where sport is a devolved matter, the NI Executive, individual departments and other bodies usually attract and fund non-mega sporting events.
Central to this work is Tourism NI, a non-departmental public body (NDPB) of the Department for the Economy, which routinely engages with the international world of sport. To showcase NI as a potential host country, Tourism NI regularly attends sports industry events and fairs, identifies appropriate opportunities, compiles bids and produces advertisements. It also provides funding to support eligible event organisers. In addition to central government funding, further event funding may be made available by local councils. (NI's approach is similar to that available in Scotland and Wales, albeit with some degree of regional variation.)
Past sporting events in NI
In the last few years, NI has continued to host major sporting events, funded in whole or in part by regional and local government. Examples have included the North West 200, both the Belfast and the Walled City marathons, and hundreds of smaller participative sporting events. In addition to these home-grown annual events, high profile itinerant international events have also selected NI as their location of choice. These include the World Police and Fire Games 2013, the Giro D'Italia Big Start 2014, the Women's Under 19 European Football Championship 2017, the Women's Rugby World Cup 2017 and the Royal Portstewart Golf Club hosting of the 2017 Dubai Duty Free Irish Open.
Upcoming sporting events in NI
In July 2019, NI will host the 148th Open Championship, golf's oldest and most international championship. The last and only time that The Open was in NI was in 1951, also at Royal Portrush. Soon, The Open's iconic claret jug will take centre stage at Royal Portrush Golf Club. The event will be covered by 500 international journalists, and will be broadcast in 150 different countries, providing a major opportunity to showcase NI on a local, national and international stage. Having sold out several months ago, with approximately 190,000 spectators expected to attend, the event is forecast to benefit NI by over £80 million.
Key intended benefits of hosting major sporting events
In its recent annual reports, Tourism NI reported steady growth in the tourism sector. It noted that in 2018, Lonely Planet ranked Belfast and the Causeway Coast as the number one region in the world to visit. Contributing to this tourism growth are large sporting events, which has further incentivised travellers to the region, often having provided a focal point in NI for basing a holiday or short break. Indeed, Tourism NI identified event-led short breaks as effective economic benefit drivers, stating:
Events enhance the visitor experience, increase visitor numbers and spend, develop the appeal and profile of the area, and elongate the tourism season.
One key target identified in the current Tourism NI strategy is generating a return on investment of 3:1 on government-funded events, i.e. for every pound invested by government through event funding, Tourism NI is to work to have the event deliver three pounds' worth of economic and social value.
Before looking at economic and social benefits of individual recent events, it is worth noting that measuring event impact is relatively more straightforward when the event is held regularly. This is because there is baseline data to draw on, enabling the tracking of changes and patterns, such as those relating to changes in revenue and/or participation. Unique 'one- off' events can be more challenging in this regard. In addition, it can be difficult to capture the intended wider or longer-term benefits of regular or single events, as those benefits can be elusive for a variety of reasons, including inadequate monitoring and evaluation due to limited resources.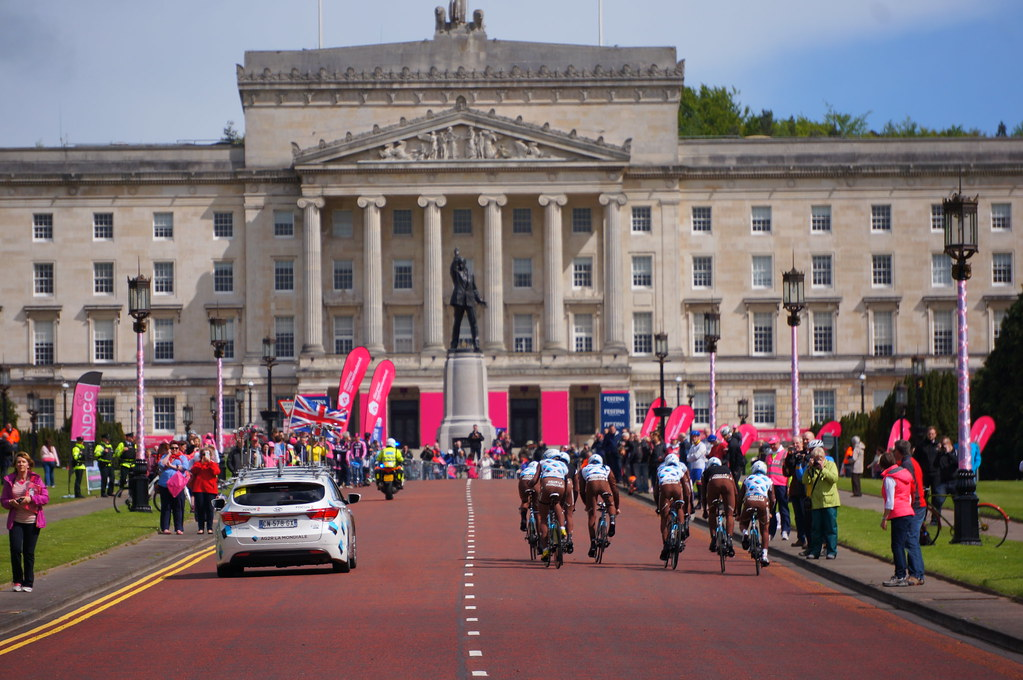 Economic benefits
While ticket revenue from large sporting events goes to the organisers, the events also may benefit the local economy in a number of ways; for example, increasing NI visitor numbers has clear financial benefits for the hospitality sector, along with wider spin-off revenue generation for local shops and businesses. Tourism, hospitality and other sectors also benefit financially from international and local tourists attending events and planning short holidays around them. To use the Giro D'Italia as an example, the economic impact of this event was £12.7 million of tourism spend, along with £2.48 million of other economic activity, representing a return on investment of £2.45 for every £1 spent by the Government. This economic activity arose from an estimated 227,000 spectators attending the event, with over 17,000 of them from outside NI.
The Open Championship is not only anticipated to bring 190,000 spectators into NI during the event week, but broadcast coverage of the golf course and the wider causeway coast will reach over 80 million people worldwide (compared to 56 million viewers of the Giro D'Italia Grand Depart). Tourism NI are using the upcoming event as an opportunity for marketing NI's sightseeing and golfing opportunities. It seeks to encourage those around the world who will watch the event on television to come to NI following the event for sightseeing and/or golfing. It also aims to incentivise others who will attend The Open in person, to return for repeat sightseeing or golfing visits in future.
Social benefits
Positive social benefits arising from the hosting of government-funded events are often more challenging to capture. The UK Mega Events Policy Framework provides some assistance in this regard, as it highlights how sporting events can improve the way communities feel about themselves, whilst also enhancing how the rest of the world sees them. Often, community spirit is evident at large events: for example, when London was gripped by Olympic fever in 2012, or when NI went pink for the Giro D'Italia in 2014. Following the Giro D'Italia, 78% of people surveyed by Tourism NI said they felt 'a lot' more proud of NI as a result of the event.
Such community spirit can serve to increase civic pride, which can bring people together, incentivising them to participate and volunteer for events that showcase NI as a potential event hosting venue and destination for people throughout NI and the rest of the world. Tourism NI's Events Strategic Vision 2020 specifically identifies this social benefit; and it was evidenced at the Giro D'Italia Grand Depart, when 950 volunteers helped. 50% of those surveyed stated that their volunteering experience at that event had given them increased confidence when subsequently applying for jobs. 63% of them said it had had a positive impact on their subsequent participation in physical activities.
A previous research paper written jointly by RaISe and the Oireachtas Library and Research Service highlighted a degree of complexity in measuring the social impact of sporting events, including some potential negative environmental and social impacts.
It remains to be seen if a positive community spirit will arise from volunteers at The Open. Similarly, community spirit may arise from the proactive, collaborative working that Tourism NI is seeking to encourage at The Open. It has produced an information leaflet for businesses to help orientate and prepare them for the crowds which are expected. The guide describes the scale and nature of the golf related tourist activity that is anticipated from the event. It notes that there will be seven days of dramatically increased town centre activity throughout it. It encourages local businesses to think proactively and collaboratively, to not only maximise their own business potential, but also to mutually benefit other local businesses during this time of increased activity, whilst giving visitors the best possible experience when they are here in NI. It will be interesting to see what social and business links arise from such co-operative working; and, if any, whether such links will develop beyond The Open.
Future potential events hosted in NI
NI continues to show ambition in attracting and hosting future major international sporting events. Towards the end of 2018, the Irish Football Association (IFA) and the Football Association of Ireland (FAI) announced its intention to enter a joint bid to host the 2023 Under 21 European Football Championship Finals. This event is the second largest football event in Europe. If the bid were successful, it would be expected to generate significant revenue, with visitors from NI, the Republic of Ireland (RoI) and beyond. Hosting the event would make use of the National Stadium at Windsor Park and the Kingspan Stadium; both of which have recently received significant redevelopment investment from the public purse. The joint nature of the bid between the IFA and FAI may also yield positive social outcomes, including those of a cross-community nature.
Hosting prestigious events on the world stage has been a significant opportunity for NI in recent years, and the size and scale of events hosted shows promise. Available evaluations of major events held to date appear to evidence that those events can showcase NI as a hosting destination of choice. Such evaluations also attempt to capture social and economic benefits arising from such events, at local business and community levels, highlighting how NI could best provide for substantially large and diverse groups. Ideally, The Open organisers will benefit from lessons learned during those past recent events, especially those in relation to local traffic management, commercial and advertising acumen, and community volunteer coordination, amongst others. Future reviews will tell.
---