Reading Time: 4 minutes Please note that more up-to-date statistics on gender representation can be found in the RaISe research paper Who Runs Northern Ireland? A Summary of Statistics Relating to Gender and Power in 2020. The late feminist
Read More »
Reading Time: 4 minutes A high profile consequence of the continuing failure to establish an Executive and fully functioning Assembly was the legislative passage this week of the Northern Ireland (Executive Formation and Exercise of Functions) Bill 2018.  A
Read More »
Reading Time: 5 minutes This week is Libraries Week so we thought we would provide an insight into the Northern Ireland Assembly Library, its work and the collection that it manages. The Assembly Library The Library, like the Assembly
Read More »
Reading Time: 4 minutes In 2016 a man called Lance Hart shot his wife Claire and daughter Charlotte outside a swimming pool in Lincolnshire, England, before turning his shotgun on himself. Some of the media coverage of the murder
Read More »
Reading Time: 6 minutes Last month, a new law came into force in England and Wales making upskirting a criminal offence. Upskirting involves taking a photo or video under a person's clothes without their consent in order
Read More »
Reading Time: 5 minutes Mutual recognition and co-operation underpin many EU law provisions. This article looks at some of the legislative options for one particular provision following Brexit; the European Arrest Warrant (EAW).
Read More »
Reading Time: 7 minutes This article explores the temporary planning measures introduced as a response to COVID-19 across the UK and Republic of Ireland (ROI). Some of these measures have, and will, require urgent legislative change, while other aspects
Read More »
Reading Time: 6 minutes This blog article examines the similarities and differences between the planning systems north and south of the border on the island of Ireland. It is based on a more detailed research paper prepared jointly by
Read More »
Reading Time: 3 minutes The planning system has undergone much change recently, so what are the new structures and how has the balance of responsibility shifted between central and local government?
Read More »
Reading Time: 5 minutes Overview The latest figures published by the Northern Ireland Statistics and Research Agency (NISRA) (February 2021) show that the number of alcohol-specific deaths in 2019 was the highest ever recorded, with 336 registered deaths linked
Read More »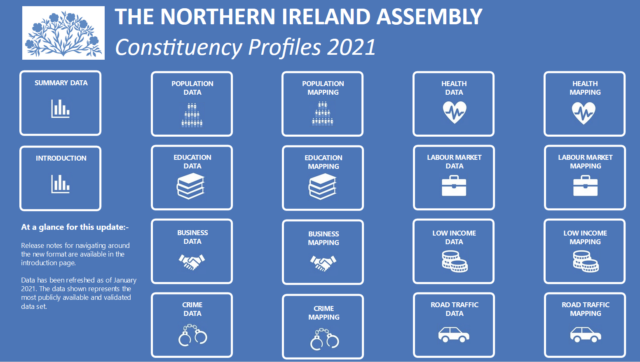 Reading Time: 2 minutes Throughout 2020 RaISe has been focused on developing the rollout of a Digital Strategy. Given the current situation with the COVID-19 pandemic, and staff working remotely from home, we recognised the need to deliver information
Read More »
Reading Time: < 1 minute Foodbanks are an increasingly useful resource for many in Northern Ireland. They provide a valuable service to communities and are continually helping to feed those in need. An interactive mapping application has been developed which
Read More »