How has Arts Council NI COVID-19 emergency funding been distributed to arts organisations?
Reading Time:
3
minutes
By James Bamford, Karen McCallion & Thomas Procter

The Arts Council of Northern Ireland (ACNI) has the role of distributing arts funding for the Department for Communities (DfC) from resources allocated by the Exchequer and the National Lottery. Each year, ACNI distributes Exchequer funds to both individual artists and arts organisations in Northern Ireland. In 2018/19, ACNI distributed £9.8m of Exchequer funding to 346 artists and arts organisations.
In March 2020, all theatres, galleries, museums and music venues closed due to COVID-19 restrictions. Almost a year later, many of Northern Ireland's arts and culture venues have not reopened their doors to live audiences. To support the arts and culture sectors in NI, a series of COVID-19 emergency funding programmes have been announced by ACNI since March 2020.
The data visualisations in this blog article illustrate ACNI funding data details published in November 2020 and February 2021. These data visualisations are provided to help illustrate the distribution of COVID-19 emergency arts funding in terms of location and art form.
By February 2021, ACNI had distributed £17.76m of COVID-19 emergency funding to 168 arts organisations and 1,562 individual artists.
 Timeline of COVID-19 emergency arts funding for organisations
Before the UK Government announced details of £1.57billion of rescue funding for arts, culture and heritage sectors, the NI Executive allocated £4million of COVID-19 emergency support funding for arts and culture organisations and individuals. This was match funded with £1.5m by DfC and ACNI.
Distribution of DfC COVID-19 Culture, Languages, Arts and Heritage Support Programmes 2020-2021
In December 2020, officials from ACNI and DfC updated the Communities Committee on their progress delivering COVID-19 emergency arts funding programmes.
This column graph illustrates DfC's distribution of £34.85m between culture, language, arts and heritage support programmes.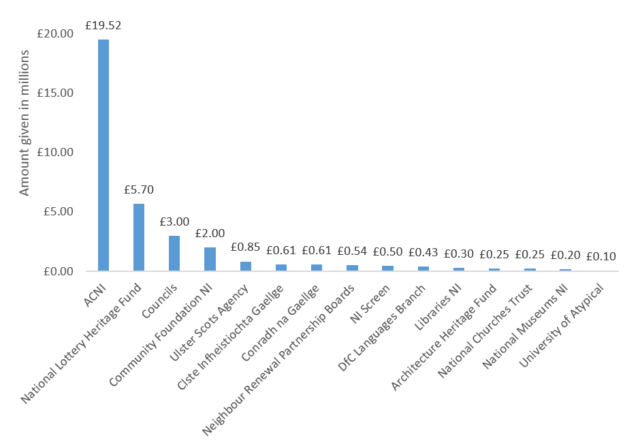 By February 2021, of the £19.52m of COVID-19 emergency funding allocated by DfC to ACNI for distribution, £10.86m was allocated to 168 arts organisations and £6.9m was distributed to 1,562 individual artists.
---